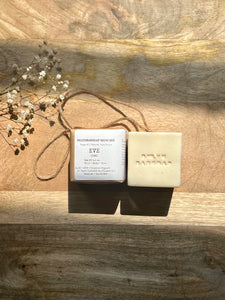 Introducing Eve- ACV+Aloe+Yogurt, the perfect daily cleanser for your most sensitive areas. This gentle, creamy and soft soap is formulated with apple cider vinegar and an herbal infusion of yarrow, rose, rosemary, calendula, oregano, and motherwart.
Aloe Vera contains antioxidants, enzymes, Vitamins A and C, and it is highly anti-inflammatory. Sunflower oil helps to maintain the skin`s natural barrier, supporting its ability to retain moisture. Apple cider vinegar can help fight vaginal odor thanks to its amazing antiseptic and antibacterial properties.
To help your soap last longer, keep out the stream of water while in the shower and store it by hanging by the string to drain excess water. Scent Characteristics: Lightly Floral, Fresh. Ingredients: Herb infused Oils of Sunflower oil, Olive Oil, Coconut Oil, Shea Butter, Palm Oil, Sodium Hydroxide, Castor Oil, Organic Raw, Organic Yogurt,Aloe Vera, Apple Cider Vinegar. Herbs include, Rosemary, Calendula, Lavender, motherwart,oregano. Light lavender essential oil.
Eve- ACV+Aloe+Yogurt is a great creamy moisture bar that can be used for face, body, hair and yoni.