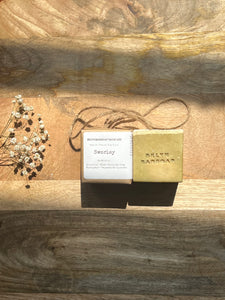 Sworley- Spirulina+Aloe+Oats is a natural, hand-made, vegan soap. It contains Eucalyptus oil, which is an effective natural moisturizer and has anti-inflammatory compounds to treat skin issues such as acne and eczema. Spirulina has anti-inflammatory properties to reduce swelling, acne and prevent further breakouts. Aloe contains antioxidants, enzymes, Vitamins A and C, and is highly anti-inflammatory, helping to treat burns, acne and dry skin. The scent characteristics are Fresh Mint, Floral, Herbal, Woody.
The ingredients are Avocado Oil, Olive Oil, Coconut Oil, Shea Butter, Sustainable Palm Oil, Castor Oil, Grapeseed Seed Oil, Sodium Hydroxide, Castor Oil, Spirulina, Oats, Aloe Vera, Eucalyptus, Peppermint, Rosemary essential oil Blend.
To help your soap last longer, keep out the stream of water while in the shower and store it by hanging by the string to drain excess water.