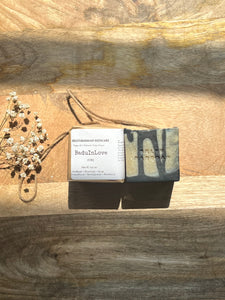 This bar is a great hybrid bar for those who want a hydrated clean feeling. We formulated this bar with Seamoss, Charcoal and Aloe. Seamoss supports skin`s natural moisture barrier-keeps harmful, drying external elements out and beneficial moisture in. Helps support healthy skin appearance.
Health Benefits: Irish Moss contains A,B,C,D vitamins that nourishes the skin In addition to its functional benefits. Activated charcoal effectively cleanses the skin, unclogs pores, removes deeper impurities, and dead skin cells. The result is smooth, supple, and even-toned skin. Aloe Vera contains antioxidants, enzymes, Vitamins A and C, and it is highly anti-inflammatory. It can help treat burns, acne and dry skin.
Scent Characteristics: Fresh, Herbal, Woody, Citrusy To help your soap last longer, keep out the stream of water while in the shower and store it by hanging by the string to drain excess water.
Ingredients: Avocado Oil, Olive Oil, Coconut Oil, Shea Butter, Sustainable Palm Oil, Castor Oil, Neem Oil, Sodium Hydroxide, Castor Oil, Irish Seamoss, Aloe Vera, charcoal, Grapefruit+Teatree +Rosemary+ essential oil blend.