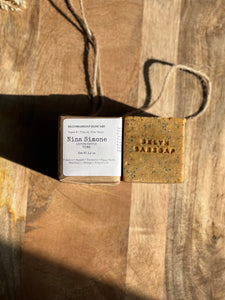 Nina Simone is made for the Fall Lovers. This essential oil blend  alone takes you to a place of Woody,Spicy and fruity aroma. We added Fresh Pumpkin Puree and Poppy Seeds for a combination of moisture and exfoliation. This Limited Edition cube will only be available for a limited time only!
Pumpkin- can add beneficial

 

vitamin A and Vitamin C

 to your soap. These vitamins can help to soothe irritated skin, as well as boost collagen production in the skin. Pumpkin can also penetrate into your skin easily, so it is great for treating dull skin.
Turmeric-contains antioxidants and anti-inflammatory components. These characteristics may provide glow and luster to the skin. Turmeric may also revive your skin by bringing out its natural glow.
 Squash- being a rich source of Vitamin C , Vitamin A and beta-carotene is extremely beneficial for maintaining a healthy skin. Vitamin C helps fighting aging as it removes the free radicals from the body thus preventing wrinkles, pigmentation and other signs of aging.
Scent Characteristics: Spicy, Woody, Herbal, Citrus
Ingredients: Saponified Oils of Olive, Coconut, Rice Bran,Sustainable Palm, Organic Shea, Avocado, Castor, Neem Oil, Bentonite Clay, Squash Puree, Pumpkin Puree,Poppy Seeds Turmeric, Coconut Milk, Chia Seeds, Distilled Water, Patchouli,Grapefruit,Orange,  essential oil blend.