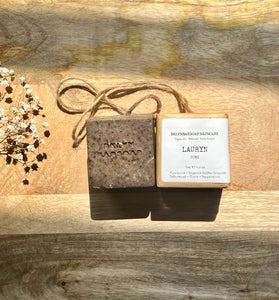 Lauryn Cube's body soap contains 15% Shea Butter, organic coffee, and plantains for a luxuriously creamy lather. Crafted to be 100% natural, this soap is packed with antioxidants to defend skin from free radical damage and premature aging. Studies suggest that using coffee soap could reduce visible sun spots, redness, and wrinkles due to chlorogenic and melanoidin-rich ingredients.
Plantain peels contain famous free-radical-fighting compounds. Gallic acid, tannins, and catechins in the cocoa pod and rutin, protocatechuic acid, and quercetin in plantain peels act synergistically to reduce wrinkles and fine lines. Scent Characteristics: Fresh Mint,Warm, Spicy, smoky.
To help your soap last longer, keep out the stream of water while in the shower and store it by hanging by the string to drain excess water.
Ingredients: Avocado Oil, Olive Oil, Coconut Oil, Shea Butter, Palm Oil, Castor Oil, Neem Oil, Sodium Hydroxide, Castor Oil, Organic Coffee, organic coffee grounds, Fresh Plantains, Cedarwood, Peppermint, Clove.