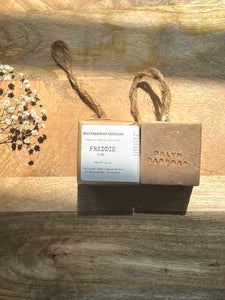 Introducing Freddie- Agave+Oats, a 100% natural soap formulated with Shea Butter and Avocado oil. This soap is enriched with organic raw honey, organic colloidal oats, and a special essential oil blend.
Oatmeal contains antioxidant and anti-inflammatory compounds that soothe itchy, dry and irritated skin. Agave is a great humectant, to hydrate the skin and lock in moisture, and also has anti-bacterial properties. Avocado oil contains a high percentage of Vitamin E, as well as potassium, lecithin, and many other nutrients which can nourish and moisturize your skin. The oleic acid also promotes collagen production, which helps grow new skin and accelerates the healing process.
To help your soap last longer, keep out the stream of water while in the shower and store it by hanging by the string to drain excess water. Scent Characteristics: Lightly Floral,Herbal, Fresh. Ingredients: Avocado Oil, Olive Oil, Coconut Oil, Shea Butter, Palm Oil, Sodium Hydroxide, Castor Oil, Organic Agave, Eucalyptus + Lavender essential oil blend.
Experience the power of Freddie- Agave+Oats and enjoy the benefits of a natural, nourishing soap!