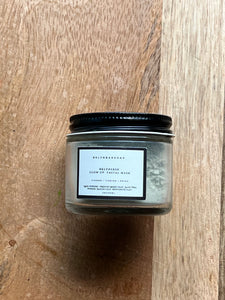 Indulge in a skincare ritual like no other by harnessing the incredible benefits of a clay mask infused with the power of Qasil powder, the soothing properties of Aloe Vera, and the detoxifying prowess of French Green Clay. This unique combination offers a wealth of advantages that will leave your skin looking and feeling its absolute best.
How to use: Experiment with the mask by adding other natural ingredients like water, acv, honey, yogurt, or aloe vera for added benefits tailored to your skin's needs. Just add equal parts clay mask and one of the listed ingredients above until creamy consistency.
Key Ingredients:
Qasil powder derived from the leaves of the gob tree, acts as a natural exfoliant, gently sloughing away dead skin cells, promoting a brighter and smoother complexion.
French Green Clay: renowned for its absorbent properties, penetrates deep into your pores, effectively drawing out impurities, excess oil, and pollutants that can clog your skin.
Aloe Vera Powder: hailed as the "plant of immortality," provides your skin with intense hydration, soothing any irritation or redness. It's also packed with essential vitamins and minerals that nourish and rejuvenate your skin.
Incorporate a clay mask infused with Qasil powder, Aloe Vera, and French Green Clay into your skincare routine to experience these remarkable benefits. Unleash the transformative power of nature and watch your skin flourish with a renewed radiance that will leave you feeling confident and rejuvenated.