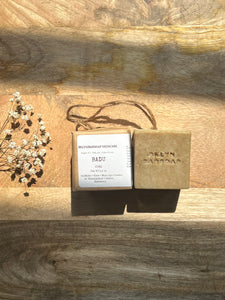 Introducing Badu-Seamoss Soap, a 100% natural cube formulated with Shea Butter and Avocado oil, Irish Seamoss, Moringa powder, Aloe Vera, organic colloidal oats, and a special essential oil blend. Seamoss helps support skin's natural moisture barrier, keeping harmful, drying external elements out and beneficial moisture in.
This soap is packed with health benefits. Irish Moss contains A,B,C,D vitamins that nourish the skin, while Moringa oil boosts collagen, helping reduce fine lines, wrinkles and sagging skin. The vitamin-rich and nutrient-dense Moringa oil makes for an excellent active ingredient in skin-care products, thanks to its antioxidants, antibacterial, and nourishing properties.
The scent of Badu-Seamoss Soap is fresh, green, herbal, and lemony. To help your soap last longer, keep out the stream of water while in the shower and store it by hanging by the string to drain excess water.
Ingredients: Avocado Oil, Olive Oil, Babussu oil, Shea Butter, Palm Oil, Castor Oil, Neem Oil, Sodium Hydroxide, Castor Oil, Irish Seamoss, Aloe Vera, Moringa, Eucalyptus +Basil+Lemon essential oil blend.
Coconut Oil Free